The Best of Tahoe Weddings for 2020
In 2020, we learned to love a little deeper, to cherish the things that matter most, and to connect with each other in ways we never had before. While weddings may have changed, we made the most out of everything this year gave us. Many might say that this year tested them in ways that no other year before had done, but in the end, we still found something worth celebrating. Here's a look back on some of the best moments that 2020 gave us here at Tahoe Engaged, and the incredible couples and vendors who brought them to life.
Amazing Tahoe Weddings
Love Conquers COVID
Marisa and Dacklin's love story played out quite like your favorite romantic comedy, with the perfect 'meet-cute' in an airport and endless adventures together. They got engaged at the end of 2019 and began planning their perfect wedding. But when COVID-19 hit and the world shut down in March, their plans quickly changed. Marisa, being a reptile biologist, takes the science behind the pandemic very seriously and did not want to plan an event that could put people at risk. She conducted endless research and planned a meticulous and socially distant wedding that allowed everyone to celebrate safely. From bubble guns to maracas to reduce droplets, socially distant tables and individually packaged meals, accommodating vendors and respectful guests, Marisa and Dacklin's wedding was a celebration to remember.
Vendor Credits
Venue: The HideOut | Photographer: Sarah Rittenour Photography | Videographer: Vow + Covenant | Zoom Coordinator: Wedfuly | Flowers (wedding party, arch, centerpieces): Inspirations by Gina | Decor for Ceremony Aisle: Mama Earth Farm with arrangement by Cynthia Shambaugh | Lavender: Bluestone Meadow Farm | Masks: Marissa D Poulin Designs | Cake: Sugarcoated Cupcakes | Beverages: BevMo (South Lake Tahoe) | Bride's Dress: Emerald City Gowns | Tailoring: Lammay | | Hair and Makeup: Rah Hair Studio | Rentals: Premier Event Rentals | Rehearsal Dinner Food: Ray's Take n' Bake Pizza | Wedding Dinner Food: Swingle Meat Co., Mama Earth Farm
Eloping to the Top of Tahoe
Liz and Matt were originally going to have a family-only, 20-person ceremony in South Lake Tahoe in July 2020. They had already done quite a bit of planning when the coronavirus brought an abrupt halt to their progress. They hemmed and hawed for a few months about what to do. After giving themselves the space to grieve the loss of their original plans, they decided to move forward with their lives and elope! Liz later confided, "I'd always secretly found the idea of eloping so romantic." Liz and Matt used their elopement as a chance to really get away and enjoy each other. With endless possibilities, they chose Lake Tahoe. They knew that they wanted their wedding day to include hiking, their dog, music, and drinks at sunset. Their photographers, VILD Photography, found the perfect mountaintop location. Liz and Matt hopped in their Jeep with Louie, their canine companion, and said "I do" as the sunset over the Sierras.

Vendor Credits
Photographer: VILD Photography | Florist: Twine Floral Co. | Hair Stylist: Rah Hair Studio | Bride's Dress: Show Me Your Mumu | Groom's Attire: Indochino | Ring Designer: Ben Shemano Jewelry
A Heavenly Experience
Two adventurers at heart, Jason and Angela spent 7 incredible years traveling and growing together. Jason planned the perfect engagement after a rigorous trek with Angela to Mt. Everest Base Camp. At just over 17,000 feet, the trek to Base Camp was one of the most intense and challenging feats they'd ever accomplished together, but it was one they'll never forget. To keep the adventure flowing, they decided to get married at the top of Heavenly Mountain in Lake Tahoe. They planned an entire weekend of festivities for their guests and their sweet corgi, Basil, even made an appearance in the ceremony. It was truly to most epic Lake Tahoe day!
Vendor Credits
Venue and Catering: Heavenly | Photographer: VILD Photography | Florist: South Lake Tahoe Enchanted Florist | DJ: Cornerstone Entertainment | Cake: Flour Girl Wedding Cakes
A Celebration for All Seasons
It's been said before that rain on a wedding day is good luck. If that's the case, then Tara and Aaron's wintry wonderland celebration – which included rain, slush, and snow – must have meant infinite luck and prosperity. Tara and Aaron's romance began as a whirlwind. They met at a party and quickly fell for each other. Aaron travels frequently for work and soon after they began talking, they jetted off to Hawaii together. The rest is history. Tara and Aaron chose Truckee's Lodge at Tahoe Donner for their nuptials on what was meant to be a sunny afternoon in September. Mother Nature had other plans. Experiencing 3 seasons in one day, they were forced to bring their wedding indoors, but that didn't slow them down! They celebrated with the ones they love under the cover of a tent with lawn games and popcorn for the bride who doesn't love sweets. It was a day they'll never forget!
Vendor Credits
Venue & Catering: The Lodge at Tahoe Donner | Bride's Gown: Swoon Bridal | Cake & Desserts: Lake Tahoe Cakes | Floral Designer: Love and Lupines | Photographer: KSL Wedding | Wedding Planner: Marcella Camille Events
Fantastic Tahoe Vendors
Inspirations by Gina
Gina Lett Shrewsberry discovered her love for floral design by way of her event planning business. She began by offering florals as a part of her wedding packages but loved it so much she made the full time shift over to floral design. Though this year has meant she's had to adjust her sails, Gina welcomed the challenge. She's used her time this year wisely, offering delivery and personalized floral arrangements as well as designing for much smaller events and elopements. She puts extra love and care into her designs, and loves to create something truly unique and awe-inspiring.
Blue Sky Events
Kerry of Blue Sky Events began her career in event planning working at Zephyr Cove Resort as a college student at the University of Pittsburgh. After meeting her now-husband, Jason, and receiving her dream job offer from Zephyr Cove Resort, she made the permanent move to Lake Tahoe. Jason and Kerry eventually decided to go into business for themselves, and so Blue Sky Events was born. The two grew their business into an event planning powerhouse, planning events around the area as well as up and down the West Coast for companies such as Google. Though the 2020 season is unprecedented for them, Kerry believes that they can endure anything. She misses creating beautiful events terribly, but looks forward to a bustling 2021 season doing what she loves most.
Swoon Bridal
Michelle of Swoon Bridal inherited her love for 'beautiful things' from her mother, Kendyl. After working in bridal in the Bay Area, she returned to Reno/Tahoe to share her love with local brides. A year after her mother passed away in 2008, she opened the doors to Swoon Bridal in Reno in her memory. Michelle and the Swoon team take pride in the diversity of their hand-curated collection, bringing designers from all over the world into the area. Through the pandemic, they've discovered unique ways to continue to cater to their special brides from virtual appointments to socially distanced dress fittings. Michelle and her team continue to live by the motto 'love isn't cancelled' and look forward to seeing their new brides married in the new year.
Northstar at Tahoe
Nestled atop the Sierra Nevada mountains sits the Zephyr Lodge, with panoramic views and wide-open spaces of everything that the Lake Tahoe region has to offer. Northstar at Tahoe's wedding destination is built with reclaimed materials and boasts an epic dining hall and patio that can accommodate up to 300 guests. Northstar also offers all-inclusive wedding weekend packages, making it simple for their couples to leave much of the planning to the pros while enjoying their weekend with family and friends. In addition to mountaintop nuptials, Northstar offers a multitude of entertaining activities both on-site and in the area during the summer months. Fun-filled favorites include golf, mountain biking, youth activities, swimming, retail shopping, and dining. Its proximity to Lake Tahoe also makes it the perfect destination to celebrate your Lake Tahoe wedding!
---
Beautiful & Beloved Photography
On their website, Blanca & Brandon Photography is described as "a photography husband and wife team that runs on caffeine, loves a good cupid shuffle and is so in love with our job!" So Tahoe Engaged was delighted when Blanca and Brandon had a moment to share some background information about themselves and their business… and most kindly, some of their beautiful photos, too.
Get to Know Blanca and Brandon
Originally from the Reno/Tahoe area, Blanca and Brandon met at Truckee Meadows Community College during a yoga class. After college, Blanca moved to LA, and they dated long distance for two years. Then Brandon then moved down to be with Blanca, and they began working in photography together. They began their photography business as headshot photographers, a unique market in Southern California. But they longed to be back in their homeland.
After returning to Tahoe in 2017, Blanca and Brandon spent a lot of time learning about the local wedding industry and working together with other wedding professionals and photographers. As the local wedding community is very tight-knit, Blanca was impressed at how everyone in the area was so welcoming and willing to help them succeed. She remarked, "with over 12,000 weddings in Lake Tahoe every year, there is enough for everyone to succeed!"
B&B's Business in the Time of COVID- 19
With COVID-19 wreaking havoc on the events industry, Blanca and Brandon made adjustments to their business to fit the changing times. They photographed more elopements and did their best to accommodate their couples who needed to postpone their weddings until next year. They also took on more portrait photography and offered some new specials to new potential clients outside of their wedding couples. Typically, Blanca and Brandon participate in 30-35 weddings per year. But in 2021, they're considering opening a few more wedding dates to more couples in order to make up for this season.
A Reno Tahoe Love Story
Blanca and Brandon developed an incredible way to give back to the community by creating "Reno Tahoe Love Story" – a conglomerate of local wedding vendors who donate their services for one day each year to an extraordinary couple.
For their inaugural giveaway in 2019, vendors included Swoon Bridal, Haven Florals, La Di Da Beauty, Rebel Pioneer Bakery, Pretty Little Paper Co., and Cohen Creates. Each vendor donated a service in order to put together the perfect wedding for a lucky couple. Couples could enter the giveaway by submitting their love story through Blanca and Brandon's website. The vendors carefully read through 40+ applications and chose the winners.
Blanca and Brandon intended to continue this giveaway yearly, but unfortunately, they were unable to this year due to COVID. But Reno Tahoe Love Story will return in 2021 with more vendors participating.
Blanca & Brandon Photography has a bright and airy style and a passion for capturing all things love, making them an integral part of the Reno/Tahoe wedding community. Be sure to keep an eye out for Reno Tahoe Love Story 2021!
---
5 Reasons to Elope to Lake Tahoe
Planning a wedding is arguably one of the most exciting, albeit intense, part of getting married. This year, that process looks a little different. 2020 has been an unprecedented year for us all. Plans have changed for many and the world is a very different place than it was a year ago. With that, weddings have transformed in many unique and creative ways as we adjust to our new normal with COVID-19. Many couples have now chosen to elope to Lake Tahoe for its incredible attributes. Here are some of the reasons why we believe Tahoe is one of the best places to run away and get married.
1. The Scenery
Lake Tahoe boasts one of the most unique landscapes in the world. From its pristine, crystal clear waters to its jagged mountain peaks, it's an incredible location to promise forever to the one you love most. It is truly an unforgettable experience to be around the natural majesty that this area has to offer all year round.

2. The Intimacy
Make your day all about YOU and your partner. Lake Tahoe is known for its panoramic alpine views and vast wilderness. It's an easy place to sneak away into the pines for an intimate elopement or micro wedding. If you're looking to elope in this area, we recommend hiring a local elopement photographer or officiant. They know all the 'top secret' locations to truly make your big day one of a kind.

3. Talented Wedding Professionals
When it comes to wedding professionals, Lake Tahoe is home to some of the best creative talents in the world. If you're looking to run away to the Sierras, look no further than the incredible vendors here in our area.
Photo Credit: AJ Photography

4. Year Around Activities
Not only is Lake Tahoe picturesque in every way, but it's also an adventure destination. Whether you're looking to have guests in town or spend your wedding getaway with your partner, there is something for everyone here. During the summer, you can hit the beaches, take a boat out on the lake, take a hike, and mountain bike some of the incredible trails in the area. During the winter, you can hit the slopes, snowmobile in the backcountry, and enjoy some apres-ski at one of the many great restaurants and bars in the area.

5. It's the Perfect Place to Begin Your Honeymoon
No need to jet away to another destination, everything you need is right here. Go from enjoying your incredibly intimate wedding day together into an incredible vacation of a lifetime.
Photo Credit: Jocelyn Noel
Final Thoughts from a Wedding Pro:
The above photos were taken at elopements officiated by Tahoe Engaged member Christa Deane with Mountain High Weddings. Christa was kind enough to share some of her thoughts on elopements with us.
She remarked, "I am loving all the elopements! I know 2020 has not been as good as we all had hoped for, but I am loving the creativity that is coming from couples and the vendors who have helped them still get married. So many couples have been disappointed in not having their 'big' weddings, but on the flip side many were relieved and amazed. A few couples said they 'got over the big party' after being able to move the wedding budget to their honeymoon or wedding week, and were able to afford a convertible or upgrade to a suite."
No matter what you're looking for in your elopement, Lake Tahoe can provide it. From the rustic natural atmosphere to the year around adventures, the Tahoe region will provide everything you've ever imagined and so much more.
---
Creating Floral Magic in Lake Tahoe
Tracey Duncan, Owner of Create with T, is originally from Placerville, California. She moved to Dana Point in Orange County at age 15 when her father changed jobs. Her first job in high school was at a local flower shop, where she discovered a love for all things floral. Tracey has always been intrigued by the outdoors, nature, and flowers. So after high school, she decided to get her degree in Landscape Architecture at Cal Poly Pomona.
Tracey met her future husband, Josh, while attending Cal Poly. After graduating, Tracey began working on large-scale design projects like parks and parking lots. Meanwhile, Josh decided to start his own landscape architecture firm, Conscious Environments, Inc., and the two then began working together.
But Tracey and Josh's true love (besides each other) was the Lake Tahoe area. So together, they hatched a long-term plan to relocate.
Tracey's attraction to flowers had always remained strong, and she had a real passion for design. So she went back to school to get an Associate's Degree in Floral Design and Shop Management. Tracey found that the transition from landscape architecture to floral design was almost seamless, as many principles such as color theory and design properties are similar. Her experience gave Tracey the confidence to start her own business after moving to Lake Tahoe. She began working with other local florists, then got her business license and opened Create with T in 2017.
When the COVID-19 pandemic hit the world this year, Tracey had quite a few wedding postponements and cancellations. But she has been as accommodating as possible, adjusting to how each wedding changed. She has also expanded her home-based business by renovating her garage into a full-service studio, complete with a walk-in refrigerator to keep her floral arrangements fresh. This has allowed her to take on larger jobs and store flowers longer than before.
Tracey now offers a weekly client service which gives her the freedom to create beautiful and unique designs. She has also begun to offer home deliveries and more "every day" floral arrangement services for birthdays, anniversaries, and other life events.
During this difficult time in the world and in the wedding industry, Tracey is grateful for the support of the local Lake Tahoe events community. She hopes that events and weddings will be able to come back full force soon in the future. Until then, she is happy to support her community in any way she can.
Photo Credits:
Blue Lotus Photography
Courtney Aaron Photography
Kevin Sawyer Photography
---
A Safe Landing at Edgewood
Tim and Kelly met online, as many couples in the digital age do. They got together for 'quick drink' on a Tuesday night. What was intended to be a casual meeting turned into 5 hours of wine and banter. The chemistry was there from the start, and that 'quick drink' was the beginning of a truly adventurous relationship. Their wedding website mentions, "Kelly liked to say…she was only using Tim for his free flights on United and the laundry machine in his apartment. Tim would say Kelly was his personal tour guide to the city." Two months after they began dating, Kelly traveled to meet Tim's family in Ohio. A month later, they headed to Egypt, where they discovered a love of traveling together. Since Tim is a pilot for United Airlines, they have been able to travel to unique and beautiful places all over the world. Until, of course, COVID-19 changed the world as we know it. Feeling the pressure of the unknown and a desire to be safe, Tim and Kelly decided to plan their wedding sooner rather than later. They selected a date in June in Lake Tahoe.
The two had a trip planned to go to Costa Rica for her birthday last year, and Kelly caught the hint that Tim might propose. The week before their planned vacation, Tim and Kelly decided to take a camping trip to Big Sur on the California Coast. To Kelly's surprise, Tim dropped to one knee and asked her for forever as the sunset over the Pacific. In a comical turn of events, their cockapoo puppy ventured off on his own in the emotion of the moment. When Tim and Kelly finally realized he was gone, a couple who were also walking on the beach returned him to his newly-engaged parents. Not wanting to interrupt, the strangers waited with him patiently, mentioning they were more than happy to watch the darling pup during the festivities.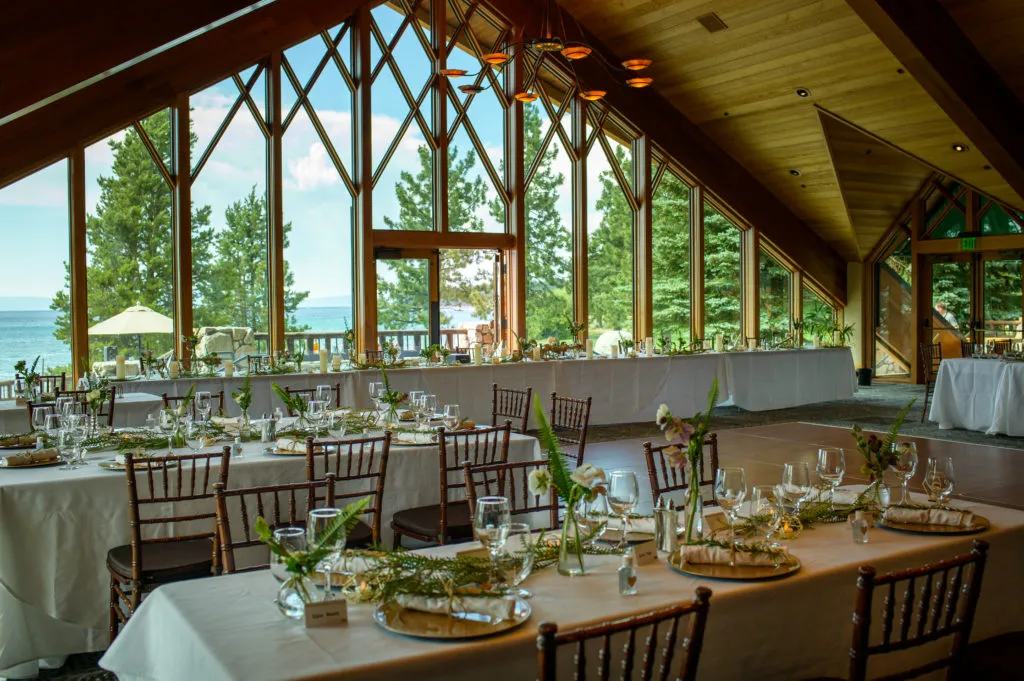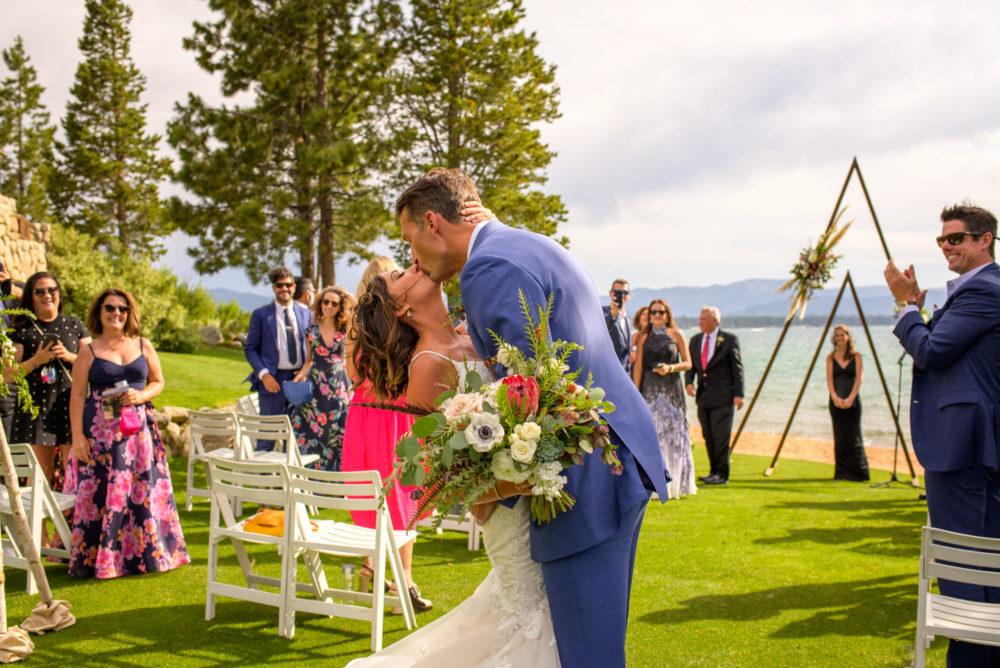 Kelly is originally from Georgia and Tim is from Ohio, but they currently live in the San Francisco Bay Area. Tahoe is a special place for them as they both enjoy skiing Heavenly together each winter. Heavenly became their dream location to say 'I do'. Unfortunately, the universe had other plans. With the COVID-19 pandemic hitting the area, the California side of Lake Tahoe remained locked down through much of the summer. Their original wedding date was June 20th, and to be safe with restrictions, it was pushed to July 19th. Two weeks before Tim and Kelly's Heavenly nuptials were set to take place, the venue had to cancel. But the incredible Lake Tahoe wedding community came together to give Tim and Kelly their dream day. The team at Heavenly assisted them in finding Edgewood Tahoe Resort to host their wedding, which is located on the Nevada side of Lake Tahoe. They pared the guest list down from 88 to the approved 50 people and went with the flow, hosting their ceremony lakeside rather than high atop Heavenly.
Tim and Kelly took the appropriate precautions to keep their guests safe. They placed the chairs during the ceremony 6 ft apart and guests maintained distance where necessary. Kelly's best friend was their ceremony officiant, and Kelly was the officiant at her wedding last year. Kelly originally ordered her gown through Novella in San Francisco, but due to the virus, her dress would not make it in time for the wedding. She made the decision to go to Gesinee's Bridal in Concord, CA to purchase her dress because San Francisco was shut down at the time.
On a breezy, sunny afternoon in July, Tim and Kelly said 'I do' on the shores of pristine Lake Tahoe. It was the perfect evening with the people Tim and Kelly love most in one of their favorite places. All of their wedding vendors worked seamlessly to make Tim and Kelly's day incredibly special: the captain of their rehearsal dinner cruise on the Safari Rose; their florist, Tahoe Engaged Member Create with T; their photographers, Blue Lotus Photography; and the staff of both Edgewood and Heavenly. Everyone was committed to making their Lake Tahoe wedding dreams a reality in an uncertain world.
Vendor Credits:
Venue & Catering: Edgewood Tahoe | Photographer: Blue Lotus Photography | Florist: Create with T | Bride's Dress: Gesinee's Bridal | Music: Jeff Jones | Rehearsal Dinner: Safari Rose
---
Eloping to the Top of Tahoe
Liz and Matt were originally going to have a family-only, 20-person ceremony in South Lake Tahoe in July 2020. They had already done quite a bit of planning when the coronavirus brought an abrupt halt to their progress. They hemmed and hawed for a few months about what to do. After giving themselves the space to grieve the loss of their original plans, they decided to move forward with their lives and elope! Liz later confided, "I'd always secretly found the idea of eloping so romantic."
Liz and Matt's photographers, M and Rob with VILD Photography, helped them find a spectacular alpine setting to wed in true Tahoe style. And of course, they also photographed (and even officiated) the couple's mountaintop marriage.
After she came down to earth from her amazing nuptial experience, Liz was kind enough to answer a few questions for us.

What was the inspiration behind your day? Did you have a specific theme or style?
Since we were eloping, the possibilities were really endless. Did we want to hike? Go to the spa? Chill on the beach? It was totally up to us. Matt and I knew that we wanted to hang out with our dog, have some drinks, listen to some music, and watch the sun go down. (This is basically our weekend routine living in SF.) Our photographer took that information and scouted a completely awesome mountaintop location. While it was tricky to get to, we have a Jeep Wrangler, so we could get there!
The entire vibe of our day was adventurous, casual, spontaneous, and rustic. I threw on my hiking boots after our ceremony, we popped champagne, and watched the jaw-droppingly beautiful sunset. We got to hang out with our dog. We filled in the details as we went, and the evening flowed so organically. We NEVER could have enjoyed that moment, in that location, together if family had been there. It all worked out the way it was supposed to.

Let's talk wedding decor. How did you decorate your space for the ceremony and the reception?
Well, given our nontraditional elopement on top of a mountain, there wasn't much to consider in terms of decor. And that's exactly why we did it that way. I was never interested in having a big wedding (our pre-COVID plan only originally involved immediate family). When we changed our plan to truly elope, there was nothing to think about other than what we were wearing and where we were going. It's cliché, but it really allowed us to focus on each other and be present in the moment, not fussing over external details. Our "decor" wound up being Lake Tahoe views, alpine forests, mountain vistas, and a pink and orange sunset.

What were the florals like in your wedding? Did they play an important part in the overall style of your wedding?
After stripping down our ceremony and deciding to elope, I knew one of the only things I still wanted to make me feel like a "bride" was a big, rustic wedding bouquet. My vision for the bouquet was an "undone" look, with pops of color and quintessential elements of California (such as pampas grass). Andi from Twine & Dandy brought my vision to life beyond my wildest dreams. She curated bright blue delphiniums and red ranunculus, with orange and pink touches and a few dusty elements to soften the palette. She called it my "Tahoe Sunset" bouquet. It was massive and asymmetrical, which lent itself to that wild, "undone" vibe I wanted. Andi also wrapped a piece of my mother's wedding veil around the stems—a personal touch that meant so much to me (especially without our families physically present). In addition to the bouquet, we did a boutonniere for my husband and a flower hair piece for my updo. This bouquet ended up being such a large part of our pictures and really matched the adventurous, spontaneous vibe of our elopement. I felt so special carrying those flowers around that mountain.

Did you personalize the day in any way? What were some of your favorite parts of your wedding?
Our sunset elopement had a few special touches 🙂 Our dog, Louie, wore a blue bowtie from The Foggy Dog. We brought champagne glasses from my brother and sister-in-law and a bottle of vintage Dom from my parents. We also drank Labatt Blues (a tribute to Matt's hometown of Buffalo) and Sam Adams beers (a tribute to my Boston stomping ground). We got to give our dog lots of kisses and watch him run around like a maniac across the mountaintop. The best part of our wedding? Driving down off the mountain in the dark, with the top down on our Jeep, blasting Chris Stapleton's "Tennessee Whiskey."

How did you both choose your wedding day look?
Well, I never had a really specific vision for how I wanted to look on my wedding day. Unlike a lot of other women, I had never daydreamed about a particular dress or "fashion moment." Once Matt and I got engaged and started planning our original ceremony, I thought I might even wear blue instead of white. When COVID happened, I realized that it was going to be really difficult to try on dresses with SF in lockdown and no boutiques open.
But then I had a thought: if we are eloping and I don't have family there to help me maneuver a traditional wedding dress (AND I want to be comfortable if we're riding in our Jeep up a mountain), I'm not going to be relaxed in a big, fussy gown. And I knew that the ONE thing I wanted to feel on our wedding day, given our unique elopement circumstances, was to feel PRESENT and relaxed. So I decided to order a few dresses online from Show Me Your Mumu, tried them on in my living room in front of my husband (we're not super traditional!), and picked a short dress with flowy, lace sleeves. I bought some simple sandals from Soludo's, some jewelry from Mejuri and Rellery, and had my little cousin paint my jean jacket with a classic Tahoe illustration. (Her name is Daisy Gulla and she's an amazing artist. ) The Blundstones and high socks were a completely spontaneous, last-minute decision on the day of our wedding, but, again, I knew I wanted to be comfortable. I'm so glad I threw them in my bag because those boots are my signature look and the pictures are that much more "us."
My husband bought a custom suit from Indochino (and did two road trips to Sacramento just to find a showroom that could do measurements during COVID). He opted for a beautiful, deep linen blue that complements his blue eyes.

What was the most anticipated or special moment of your wedding day?
I think the most special moment of the elopement was getting to the top and seeing the views—and then having that space all to ourselves. We were so immersed in the natural beauty of the location that it took our breath away. It was a bit overcast at the start of our ceremony, but as Matt started reading his vows, the sun emerged from behind the clouds and beamed directly down onto us. As we drank champagne and the sun started to go down, we were basically just continually gasping at how beautiful the sky looked. Marrying Matt was the best day of my life, but to do it in such a unique way—in SUCH a beautiful location—was by far the coolest part.

Do you have any wedding planning or marriage advice that you'd like to share with other couples planning their day?
As a "COVID couple," Matt and I chose to look at the pandemic—and ultimate decision to elope rather than postpone our original ceremony—as a silver lining. While it was bittersweet not to have family there, eloping the way we did was so romantic. Everything stripped away. Just us and Louie (and the amazing Rob and M, who were our photographers, wedding planners, location scouts, and hiking buddies all wrapped into one). Neither one of us had ever felt so present as we did on our wedding night. It was the most meaningful way to enter our marriage, standing on a mountaintop alone. All the bells and whistles of a more traditional ceremony are great, and those things may mean a lot to some folks, but at the end of the day, it's really just about you and your partner. If I could tell engaged couples anything, it would be not to sweat the small stuff. Constantly reminding ourselves about what the day was REALLY all about—marrying each other—kept us positive and sane. When you're looking into each other's eyes, reading vows, you realize that none of the small stuff matters at all.
Vendor Credits:
Photographer: VILD Photography | Florist: Twine Floral Co. | Hair Stylist: Rah Hair Studio | Bride's Dress: Show Me Your Mumu | Groom's Attire: Indochino | Ring Designer: Ben Shemano Jewelry
---