A Festive Fete in the Forest
There's something magical and enchanting about a wedding in the woods. Above you, a tapestry of blue sky and boughs serves as your canopy; below you, the sun-dappled undergrowth your floor; and around you, stately trees stand as silent witnesses to your exchange of vows.
For Correen and Kellen, a woodland wedding was a natural choice – since Kellen had lived in Tahoe City, they wanted a wedding with a Tahoe feel and a forested setting. They found the ideal spot for their nuptials tucked away in the Sierra Nevada mountains near Lake Tahoe: Twenty Mile House, a historic complex surrounded by acres of lush forests traversed by babbling creeks and a river.
The rustic yet elegant essence of Correen and Kellen's festive celebration was creatively and comprehensively captured by Jeramie Lu Photography.
Coreen and Kellen's Save-the-Date card featured photos of the couple amid beautiful alpine landscapes. Their invitation was embellished with an elegant sketching of distant mountains surrounded by pine trees.
Hues of mauve, a color Correen loves, plus neutrals of grey, ivory and green, as well as pops of navy, beautifully underscored the antique elegance of their celebration and juxtaposed nicely with the rustic and woodland surroundings.
Correen stunned in her trumpet gown with a lace bodice and gorgeous lace detailing throughout. Gracing her hand was an exquisite, antique-style engagement ring custom-designed by Kellen.
The bridal bouquets designed by Gray's Flower Garden consisted of softly hued garden roses, accented with blue-centered white anemones and seeded eucalyptus. They were the perfect complement to the bridesmaids' dresses, which were all in the same lovely shade of mauve but varied in dress style, according to the bridesmaids' choosing.
Meanwhile, in a fusion of style and comfort, Kellen and his groomsmen wore Wrangler dress jeans that actually looked like dress pants, along with cowboy boots, a grey vest and a navy tie over a white shirt.
The ceremony site was in a clearing surrounded by soaring pine trees that reached to the sky. The pristine natural setting was beautiful and "didn't need much decorating since it was gorgeous," recalled Correen.
The forest scene was enhanced by wine barrels topped with lovely flower arrangements and, in front, a wooden arch draped with gauzy white fabric and adorned with a gorgeous assortment of blooms and greenery.
Family was a central theme in Correen and Kellen's wedding. On the long pathway leading to the ceremony site, the trees that lined the way were hung with family portraits in antique-looking frames.
Moreover, framed pictures of both Kellen's mother and godmother, who had passed away, were displayed on the front row of the groom's side of the aisle. As Correen and Kellen exchanged vows before the pictures, the officiant who performed the ceremony happened to also be the son of the godmother in the picture, another touching tribute.
A family heirloom belonging to Correen's family played a significant part in the ceremony as well—an antique flower holder that had been used in family weddings for generations. This time it was carried, not by Correen, but by Kellen as he walked down the aisle, symbolizing his mother, as well as the blending of two families.
The personal family touches continued through to the reception. The guest tables were decorated with simple but elegant garlands of eucalyptus greenery woven around wooden lanterns crafted by Correen's brothers and stained by Kellen's father. The metal table numbers were made by Kellen, who happens to be a fabrication supervisor in charge of the welding department at his work. A friend did the calligraphy for all the signs. "Everyone had a part in helping," Correen remarked.
Following the ceremony, signature cocktails featured the couple's favorite summertime drinks: the groom's drink was jack and lemonade and the bride's was vodka soda with a splash of sprite and lime. Hors d'oeuvres consisted of Thai meatballs, polenta bites and loaded potato chips.
The dinner menu served by Pangaea Catering included local grass-fed sirloin with house-made bourbon sauce, lemon and herb-brined chicken drizzled with a chardonnay and sage cream sauce, rosemary focaccia, greens with cheese, apples/pears and toasted pecans, almond pilaf and more.
A dessert bar featured sweet treats like berry lemon shooters, espresso shooters, ding dong cakes and cannelloni. The couple shared a small personal wedding cake, fittingly topped with a pine cone and decorated in bark-like frosting.
Correen's advice to couples planning to wed: "It really doesn't have to be that stressful. Don't get stressed, breathe, and have people help. Have family help you, have friends help you." It's a conviction Correen and Kellen took to heart. Their celebration was a festive tribute not only to the alpine setting of Kellen's hometown, but also to family, both past and present.
Vendor Credits:
Photographer – Jeramie Lu Photography | Venue – Twenty Mile House | Bride's Dress – Calla Blanche | Ring – Diamond Vault | Bride's Shoes – Betsey Johnson | Bridesmaids' Dresses – Birdy Grey | Hairstylist – Maddison Bland | Makeup – Nikki Scheerer | Florist – Gray's Flower Garden | Caterer – Pangaea Catering | Cake – Grandma Jane's Place | Invitations – Minted | DJ – Jon Alder, DJ's in Reno | Videographer – Little Wild
---
The Best of Tahoe Weddings for 2020
In 2020, we learned to love a little deeper, to cherish the things that matter most, and to connect with each other in ways we never had before. While weddings may have changed, we made the most out of everything this year gave us. Many might say that this year tested them in ways that no other year before had done, but in the end, we still found something worth celebrating. Here's a look back on some of the best moments that 2020 gave us here at Tahoe Engaged, and the incredible couples and vendors who brought them to life.
Amazing Tahoe Weddings
Love Conquers COVID
Marisa and Dacklin's love story played out quite like your favorite romantic comedy, with the perfect 'meet-cute' in an airport and endless adventures together. They got engaged at the end of 2019 and began planning their perfect wedding. But when COVID-19 hit and the world shut down in March, their plans quickly changed. Marisa, being a reptile biologist, takes the science behind the pandemic very seriously and did not want to plan an event that could put people at risk. She conducted endless research and planned a meticulous and socially distant wedding that allowed everyone to celebrate safely. From bubble guns to maracas to reduce droplets, socially distant tables and individually packaged meals, accommodating vendors and respectful guests, Marisa and Dacklin's wedding was a celebration to remember.
Vendor Credits
Venue: The HideOut | Photographer: Sarah Rittenour Photography | Videographer: Vow + Covenant | Zoom Coordinator: Wedfuly | Flowers (wedding party, arch, centerpieces): Inspirations by Gina | Decor for Ceremony Aisle: Mama Earth Farm with arrangement by Cynthia Shambaugh | Lavender: Bluestone Meadow Farm | Masks: Marissa D Poulin Designs | Cake: Sugarcoated Cupcakes | Beverages: BevMo (South Lake Tahoe) | Bride's Dress: Emerald City Gowns | Tailoring: Lammay | | Hair and Makeup: Rah Hair Studio | Rentals: Premier Event Rentals | Rehearsal Dinner Food: Ray's Take n' Bake Pizza | Wedding Dinner Food: Swingle Meat Co., Mama Earth Farm
Eloping to the Top of Tahoe
Liz and Matt were originally going to have a family-only, 20-person ceremony in South Lake Tahoe in July 2020. They had already done quite a bit of planning when the coronavirus brought an abrupt halt to their progress. They hemmed and hawed for a few months about what to do. After giving themselves the space to grieve the loss of their original plans, they decided to move forward with their lives and elope! Liz later confided, "I'd always secretly found the idea of eloping so romantic." Liz and Matt used their elopement as a chance to really get away and enjoy each other. With endless possibilities, they chose Lake Tahoe. They knew that they wanted their wedding day to include hiking, their dog, music, and drinks at sunset. Their photographers, VILD Photography, found the perfect mountaintop location. Liz and Matt hopped in their Jeep with Louie, their canine companion, and said "I do" as the sunset over the Sierras.

Vendor Credits
Photographer: VILD Photography | Florist: Twine Floral Co. | Hair Stylist: Rah Hair Studio | Bride's Dress: Show Me Your Mumu | Groom's Attire: Indochino | Ring Designer: Ben Shemano Jewelry
A Heavenly Experience
Two adventurers at heart, Jason and Angela spent 7 incredible years traveling and growing together. Jason planned the perfect engagement after a rigorous trek with Angela to Mt. Everest Base Camp. At just over 17,000 feet, the trek to Base Camp was one of the most intense and challenging feats they'd ever accomplished together, but it was one they'll never forget. To keep the adventure flowing, they decided to get married at the top of Heavenly Mountain in Lake Tahoe. They planned an entire weekend of festivities for their guests and their sweet corgi, Basil, even made an appearance in the ceremony. It was truly to most epic Lake Tahoe day!
Vendor Credits
Venue and Catering: Heavenly | Photographer: VILD Photography | Florist: South Lake Tahoe Enchanted Florist | DJ: Cornerstone Entertainment | Cake: Flour Girl Wedding Cakes
A Celebration for All Seasons
It's been said before that rain on a wedding day is good luck. If that's the case, then Tara and Aaron's wintry wonderland celebration – which included rain, slush, and snow – must have meant infinite luck and prosperity. Tara and Aaron's romance began as a whirlwind. They met at a party and quickly fell for each other. Aaron travels frequently for work and soon after they began talking, they jetted off to Hawaii together. The rest is history. Tara and Aaron chose Truckee's Lodge at Tahoe Donner for their nuptials on what was meant to be a sunny afternoon in September. Mother Nature had other plans. Experiencing 3 seasons in one day, they were forced to bring their wedding indoors, but that didn't slow them down! They celebrated with the ones they love under the cover of a tent with lawn games and popcorn for the bride who doesn't love sweets. It was a day they'll never forget!
Vendor Credits
Venue & Catering: The Lodge at Tahoe Donner | Bride's Gown: Swoon Bridal | Cake & Desserts: Lake Tahoe Cakes | Floral Designer: Love and Lupines | Photographer: KSL Wedding | Wedding Planner: Marcella Camille Events
Fantastic Tahoe Vendors
Inspirations by Gina
Gina Lett Shrewsberry discovered her love for floral design by way of her event planning business. She began by offering florals as a part of her wedding packages but loved it so much she made the full time shift over to floral design. Though this year has meant she's had to adjust her sails, Gina welcomed the challenge. She's used her time this year wisely, offering delivery and personalized floral arrangements as well as designing for much smaller events and elopements. She puts extra love and care into her designs, and loves to create something truly unique and awe-inspiring.
Blue Sky Events
Kerry of Blue Sky Events began her career in event planning working at Zephyr Cove Resort as a college student at the University of Pittsburgh. After meeting her now-husband, Jason, and receiving her dream job offer from Zephyr Cove Resort, she made the permanent move to Lake Tahoe. Jason and Kerry eventually decided to go into business for themselves, and so Blue Sky Events was born. The two grew their business into an event planning powerhouse, planning events around the area as well as up and down the West Coast for companies such as Google. Though the 2020 season is unprecedented for them, Kerry believes that they can endure anything. She misses creating beautiful events terribly, but looks forward to a bustling 2021 season doing what she loves most.
Swoon Bridal
Michelle of Swoon Bridal inherited her love for 'beautiful things' from her mother, Kendyl. After working in bridal in the Bay Area, she returned to Reno/Tahoe to share her love with local brides. A year after her mother passed away in 2008, she opened the doors to Swoon Bridal in Reno in her memory. Michelle and the Swoon team take pride in the diversity of their hand-curated collection, bringing designers from all over the world into the area. Through the pandemic, they've discovered unique ways to continue to cater to their special brides from virtual appointments to socially distanced dress fittings. Michelle and her team continue to live by the motto 'love isn't cancelled' and look forward to seeing their new brides married in the new year.
Northstar at Tahoe
Nestled atop the Sierra Nevada mountains sits the Zephyr Lodge, with panoramic views and wide-open spaces of everything that the Lake Tahoe region has to offer. Northstar at Tahoe's wedding destination is built with reclaimed materials and boasts an epic dining hall and patio that can accommodate up to 300 guests. Northstar also offers all-inclusive wedding weekend packages, making it simple for their couples to leave much of the planning to the pros while enjoying their weekend with family and friends. In addition to mountaintop nuptials, Northstar offers a multitude of entertaining activities both on-site and in the area during the summer months. Fun-filled favorites include golf, mountain biking, youth activities, swimming, retail shopping, and dining. Its proximity to Lake Tahoe also makes it the perfect destination to celebrate your Lake Tahoe wedding!
---
Beautiful & Beloved Photography
On their website, Blanca & Brandon Photography is described as "a photography husband and wife team that runs on caffeine, loves a good cupid shuffle and is so in love with our job!" So Tahoe Engaged was delighted when Blanca and Brandon had a moment to share some background information about themselves and their business… and most kindly, some of their beautiful photos, too.
Get to Know Blanca and Brandon
Originally from the Reno/Tahoe area, Blanca and Brandon met at Truckee Meadows Community College during a yoga class. After college, Blanca moved to LA, and they dated long distance for two years. Then Brandon then moved down to be with Blanca, and they began working in photography together. They began their photography business as headshot photographers, a unique market in Southern California. But they longed to be back in their homeland.
After returning to Tahoe in 2017, Blanca and Brandon spent a lot of time learning about the local wedding industry and working together with other wedding professionals and photographers. As the local wedding community is very tight-knit, Blanca was impressed at how everyone in the area was so welcoming and willing to help them succeed. She remarked, "with over 12,000 weddings in Lake Tahoe every year, there is enough for everyone to succeed!"
B&B's Business in the Time of COVID- 19
With COVID-19 wreaking havoc on the events industry, Blanca and Brandon made adjustments to their business to fit the changing times. They photographed more elopements and did their best to accommodate their couples who needed to postpone their weddings until next year. They also took on more portrait photography and offered some new specials to new potential clients outside of their wedding couples. Typically, Blanca and Brandon participate in 30-35 weddings per year. But in 2021, they're considering opening a few more wedding dates to more couples in order to make up for this season.
A Reno Tahoe Love Story
Blanca and Brandon developed an incredible way to give back to the community by creating "Reno Tahoe Love Story" – a conglomerate of local wedding vendors who donate their services for one day each year to an extraordinary couple.
For their inaugural giveaway in 2019, vendors included Swoon Bridal, Haven Florals, La Di Da Beauty, Rebel Pioneer Bakery, Pretty Little Paper Co., and Cohen Creates. Each vendor donated a service in order to put together the perfect wedding for a lucky couple. Couples could enter the giveaway by submitting their love story through Blanca and Brandon's website. The vendors carefully read through 40+ applications and chose the winners.
Blanca and Brandon intended to continue this giveaway yearly, but unfortunately, they were unable to this year due to COVID. But Reno Tahoe Love Story will return in 2021 with more vendors participating.
Blanca & Brandon Photography has a bright and airy style and a passion for capturing all things love, making them an integral part of the Reno/Tahoe wedding community. Be sure to keep an eye out for Reno Tahoe Love Story 2021!
---
5 Reasons to Elope to Lake Tahoe
Planning a wedding is arguably one of the most exciting, albeit intense, part of getting married. This year, that process looks a little different. 2020 has been an unprecedented year for us all. Plans have changed for many and the world is a very different place than it was a year ago. With that, weddings have transformed in many unique and creative ways as we adjust to our new normal with COVID-19. Many couples have now chosen to elope to Lake Tahoe for its incredible attributes. Here are some of the reasons why we believe Tahoe is one of the best places to run away and get married.
1. The Scenery
Lake Tahoe boasts one of the most unique landscapes in the world. From its pristine, crystal clear waters to its jagged mountain peaks, it's an incredible location to promise forever to the one you love most. It is truly an unforgettable experience to be around the natural majesty that this area has to offer all year round.

2. The Intimacy
Make your day all about YOU and your partner. Lake Tahoe is known for its panoramic alpine views and vast wilderness. It's an easy place to sneak away into the pines for an intimate elopement or micro wedding. If you're looking to elope in this area, we recommend hiring a local elopement photographer or officiant. They know all the 'top secret' locations to truly make your big day one of a kind.

3. Talented Wedding Professionals
When it comes to wedding professionals, Lake Tahoe is home to some of the best creative talents in the world. If you're looking to run away to the Sierras, look no further than the incredible vendors here in our area.
Photo Credit: AJ Photography

4. Year Around Activities
Not only is Lake Tahoe picturesque in every way, but it's also an adventure destination. Whether you're looking to have guests in town or spend your wedding getaway with your partner, there is something for everyone here. During the summer, you can hit the beaches, take a boat out on the lake, take a hike, and mountain bike some of the incredible trails in the area. During the winter, you can hit the slopes, snowmobile in the backcountry, and enjoy some apres-ski at one of the many great restaurants and bars in the area.

5. It's the Perfect Place to Begin Your Honeymoon
No need to jet away to another destination, everything you need is right here. Go from enjoying your incredibly intimate wedding day together into an incredible vacation of a lifetime.
Photo Credit: Jocelyn Noel
Final Thoughts from a Wedding Pro:
The above photos were taken at elopements officiated by Tahoe Engaged member Christa Deane with Mountain High Weddings. Christa was kind enough to share some of her thoughts on elopements with us.
She remarked, "I am loving all the elopements! I know 2020 has not been as good as we all had hoped for, but I am loving the creativity that is coming from couples and the vendors who have helped them still get married. So many couples have been disappointed in not having their 'big' weddings, but on the flip side many were relieved and amazed. A few couples said they 'got over the big party' after being able to move the wedding budget to their honeymoon or wedding week, and were able to afford a convertible or upgrade to a suite."
No matter what you're looking for in your elopement, Lake Tahoe can provide it. From the rustic natural atmosphere to the year around adventures, the Tahoe region will provide everything you've ever imagined and so much more.
---
Creating Floral Magic in Lake Tahoe
Tracey Duncan, Owner of Create with T, is originally from Placerville, California. She moved to Dana Point in Orange County at age 15 when her father changed jobs. Her first job in high school was at a local flower shop, where she discovered a love for all things floral. Tracey has always been intrigued by the outdoors, nature, and flowers. So after high school, she decided to get her degree in Landscape Architecture at Cal Poly Pomona.
Tracey met her future husband, Josh, while attending Cal Poly. After graduating, Tracey began working on large-scale design projects like parks and parking lots. Meanwhile, Josh decided to start his own landscape architecture firm, Conscious Environments, Inc., and the two then began working together.
But Tracey and Josh's true love (besides each other) was the Lake Tahoe area. So together, they hatched a long-term plan to relocate.
Tracey's attraction to flowers had always remained strong, and she had a real passion for design. So she went back to school to get an Associate's Degree in Floral Design and Shop Management. Tracey found that the transition from landscape architecture to floral design was almost seamless, as many principles such as color theory and design properties are similar. Her experience gave Tracey the confidence to start her own business after moving to Lake Tahoe. She began working with other local florists, then got her business license and opened Create with T in 2017.
When the COVID-19 pandemic hit the world this year, Tracey had quite a few wedding postponements and cancellations. But she has been as accommodating as possible, adjusting to how each wedding changed. She has also expanded her home-based business by renovating her garage into a full-service studio, complete with a walk-in refrigerator to keep her floral arrangements fresh. This has allowed her to take on larger jobs and store flowers longer than before.
Tracey now offers a weekly client service which gives her the freedom to create beautiful and unique designs. She has also begun to offer home deliveries and more "every day" floral arrangement services for birthdays, anniversaries, and other life events.
During this difficult time in the world and in the wedding industry, Tracey is grateful for the support of the local Lake Tahoe events community. She hopes that events and weddings will be able to come back full force soon in the future. Until then, she is happy to support her community in any way she can.
Photo Credits:
Blue Lotus Photography
Courtney Aaron Photography
Kevin Sawyer Photography
---
A Safe Landing at Edgewood
Tim and Kelly met online, as many couples in the digital age do. They got together for 'quick drink' on a Tuesday night. What was intended to be a casual meeting turned into 5 hours of wine and banter. The chemistry was there from the start, and that 'quick drink' was the beginning of a truly adventurous relationship. Their wedding website mentions, "Kelly liked to say…she was only using Tim for his free flights on United and the laundry machine in his apartment. Tim would say Kelly was his personal tour guide to the city." Two months after they began dating, Kelly traveled to meet Tim's family in Ohio. A month later, they headed to Egypt, where they discovered a love of traveling together. Since Tim is a pilot for United Airlines, they have been able to travel to unique and beautiful places all over the world. Until, of course, COVID-19 changed the world as we know it. Feeling the pressure of the unknown and a desire to be safe, Tim and Kelly decided to plan their wedding sooner rather than later. They selected a date in June in Lake Tahoe.
The two had a trip planned to go to Costa Rica for her birthday last year, and Kelly caught the hint that Tim might propose. The week before their planned vacation, Tim and Kelly decided to take a camping trip to Big Sur on the California Coast. To Kelly's surprise, Tim dropped to one knee and asked her for forever as the sunset over the Pacific. In a comical turn of events, their cockapoo puppy ventured off on his own in the emotion of the moment. When Tim and Kelly finally realized he was gone, a couple who were also walking on the beach returned him to his newly-engaged parents. Not wanting to interrupt, the strangers waited with him patiently, mentioning they were more than happy to watch the darling pup during the festivities.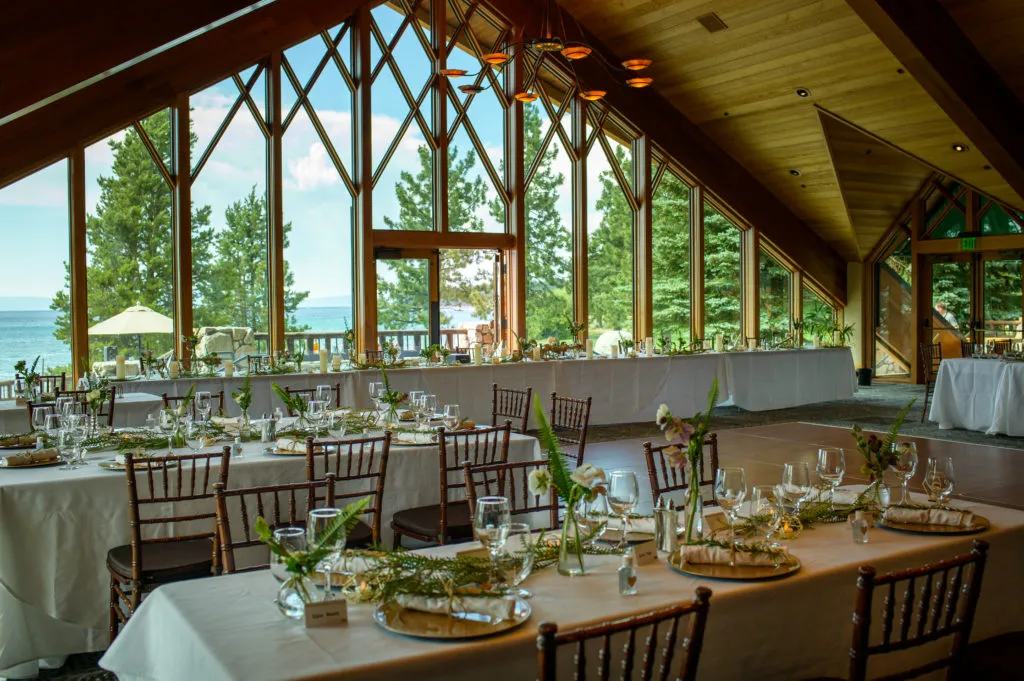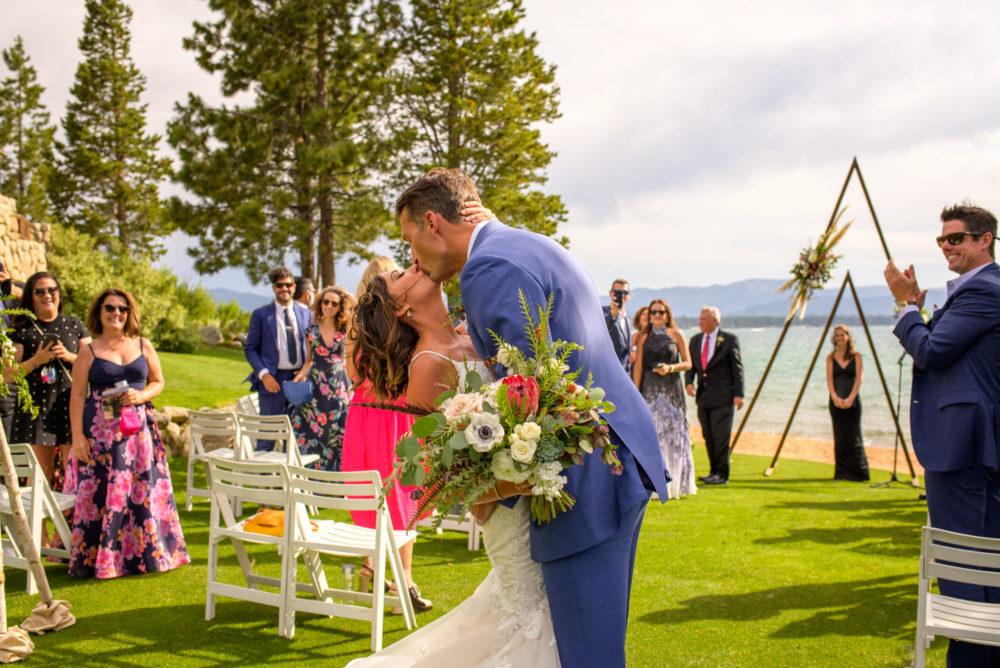 Kelly is originally from Georgia and Tim is from Ohio, but they currently live in the San Francisco Bay Area. Tahoe is a special place for them as they both enjoy skiing Heavenly together each winter. Heavenly became their dream location to say 'I do'. Unfortunately, the universe had other plans. With the COVID-19 pandemic hitting the area, the California side of Lake Tahoe remained locked down through much of the summer. Their original wedding date was June 20th, and to be safe with restrictions, it was pushed to July 19th. Two weeks before Tim and Kelly's Heavenly nuptials were set to take place, the venue had to cancel. But the incredible Lake Tahoe wedding community came together to give Tim and Kelly their dream day. The team at Heavenly assisted them in finding Edgewood Tahoe Resort to host their wedding, which is located on the Nevada side of Lake Tahoe. They pared the guest list down from 88 to the approved 50 people and went with the flow, hosting their ceremony lakeside rather than high atop Heavenly.
Tim and Kelly took the appropriate precautions to keep their guests safe. They placed the chairs during the ceremony 6 ft apart and guests maintained distance where necessary. Kelly's best friend was their ceremony officiant, and Kelly was the officiant at her wedding last year. Kelly originally ordered her gown through Novella in San Francisco, but due to the virus, her dress would not make it in time for the wedding. She made the decision to go to Gesinee's Bridal in Concord, CA to purchase her dress because San Francisco was shut down at the time.
On a breezy, sunny afternoon in July, Tim and Kelly said 'I do' on the shores of pristine Lake Tahoe. It was the perfect evening with the people Tim and Kelly love most in one of their favorite places. All of their wedding vendors worked seamlessly to make Tim and Kelly's day incredibly special: the captain of their rehearsal dinner cruise on the Safari Rose; their florist, Tahoe Engaged Member Create with T; their photographers, Blue Lotus Photography; and the staff of both Edgewood and Heavenly. Everyone was committed to making their Lake Tahoe wedding dreams a reality in an uncertain world.
Vendor Credits:
Venue & Catering: Edgewood Tahoe | Photographer: Blue Lotus Photography | Florist: Create with T | Bride's Dress: Gesinee's Bridal | Music: Jeff Jones | Rehearsal Dinner: Safari Rose
---