Tim and Kelly met online, as many couples in the digital age do. They got together for 'quick drink' on a Tuesday night. What was intended to be a casual meeting turned into 5 hours of wine and banter. The chemistry was there from the start, and that 'quick drink' was the beginning of a truly adventurous relationship. Their wedding website mentions, "Kelly liked to say…she was only using Tim for his free flights on United and the laundry machine in his apartment. Tim would say Kelly was his personal tour guide to the city." Two months after they began dating, Kelly traveled to meet Tim's family in Ohio. A month later, they headed to Egypt, where they discovered a love of traveling together. Since Tim is a pilot for United Airlines, they have been able to travel to unique and beautiful places all over the world. Until, of course, COVID-19 changed the world as we know it. Feeling the pressure of the unknown and a desire to be safe, Tim and Kelly decided to plan their wedding sooner rather than later. They selected a date in June in Lake Tahoe.
The two had a trip planned to go to Costa Rica for her birthday last year, and Kelly caught the hint that Tim might propose. The week before their planned vacation, Tim and Kelly decided to take a camping trip to Big Sur on the California Coast. To Kelly's surprise, Tim dropped to one knee and asked her for forever as the sunset over the Pacific. In a comical turn of events, their cockapoo puppy ventured off on his own in the emotion of the moment. When Tim and Kelly finally realized he was gone, a couple who were also walking on the beach returned him to his newly-engaged parents. Not wanting to interrupt, the strangers waited with him patiently, mentioning they were more than happy to watch the darling pup during the festivities.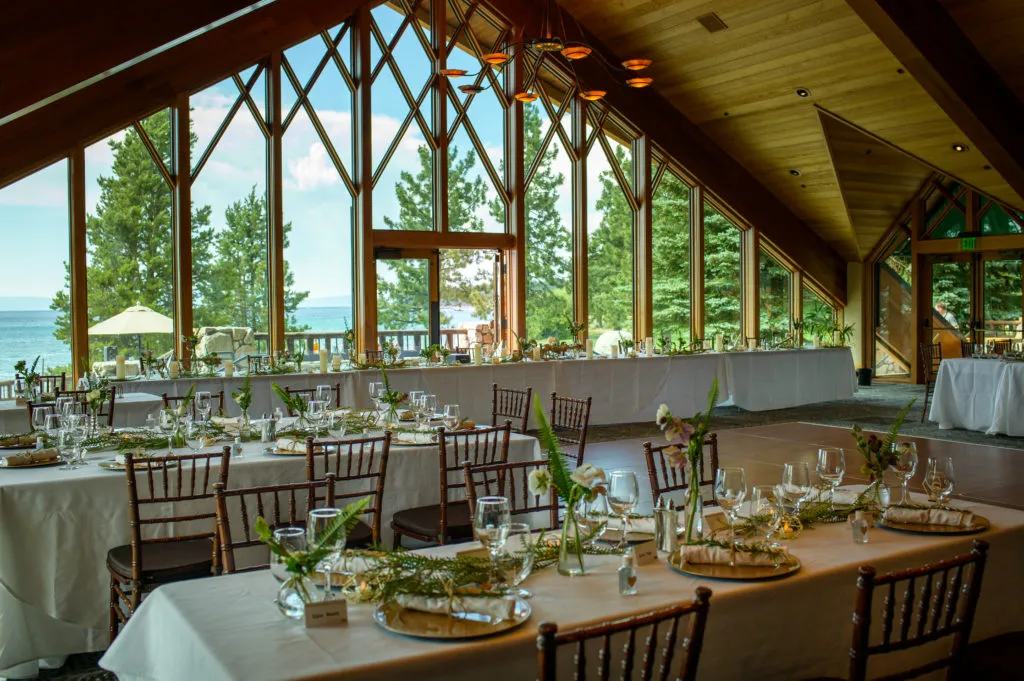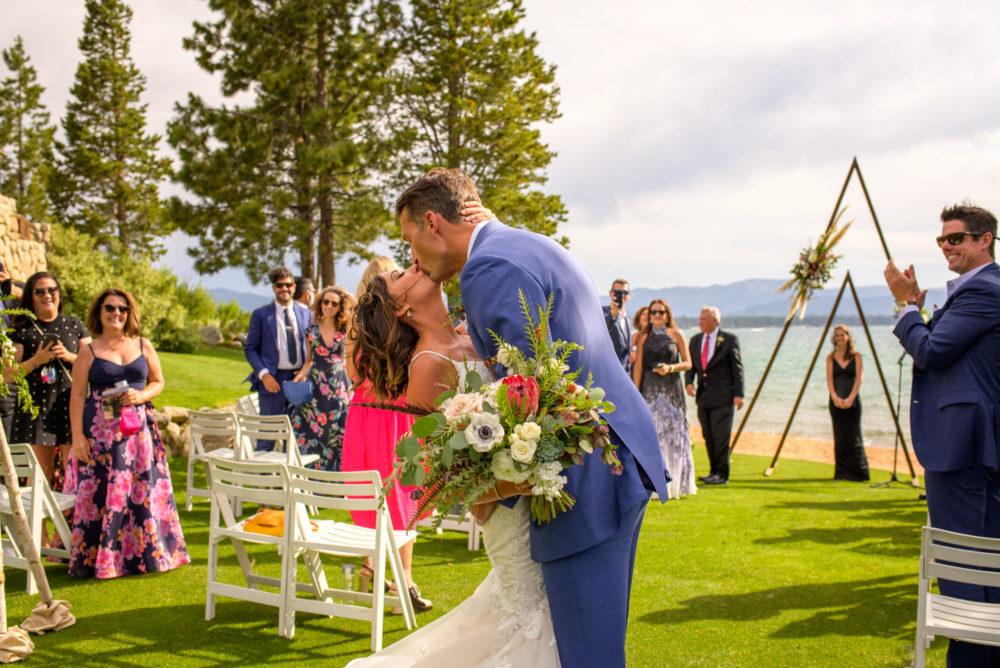 Kelly is originally from Georgia and Tim is from Ohio, but they currently live in the San Francisco Bay Area. Tahoe is a special place for them as they both enjoy skiing Heavenly together each winter. Heavenly became their dream location to say 'I do'. Unfortunately, the universe had other plans. With the COVID-19 pandemic hitting the area, the California side of Lake Tahoe remained locked down through much of the summer. Their original wedding date was June 20th, and to be safe with restrictions, it was pushed to July 19th. Two weeks before Tim and Kelly's Heavenly nuptials were set to take place, the venue had to cancel. But the incredible Lake Tahoe wedding community came together to give Tim and Kelly their dream day. The team at Heavenly assisted them in finding Edgewood Tahoe Resort to host their wedding, which is located on the Nevada side of Lake Tahoe. They pared the guest list down from 88 to the approved 50 people and went with the flow, hosting their ceremony lakeside rather than high atop Heavenly.
Tim and Kelly took the appropriate precautions to keep their guests safe. They placed the chairs during the ceremony 6 ft apart and guests maintained distance where necessary. Kelly's best friend was their ceremony officiant, and Kelly was the officiant at her wedding last year. Kelly originally ordered her gown through Novella in San Francisco, but due to the virus, her dress would not make it in time for the wedding. She made the decision to go to Gesinee's Bridal in Concord, CA to purchase her dress because San Francisco was shut down at the time.
On a breezy, sunny afternoon in July, Tim and Kelly said 'I do' on the shores of pristine Lake Tahoe. It was the perfect evening with the people Tim and Kelly love most in one of their favorite places. All of their wedding vendors worked seamlessly to make Tim and Kelly's day incredibly special: the captain of their rehearsal dinner cruise on the Safari Rose; their florist, Tahoe Engaged Member Create with T; their photographers, Blue Lotus Photography; and the staff of both Edgewood and Heavenly. Everyone was committed to making their Lake Tahoe wedding dreams a reality in an uncertain world.
Vendor Credits:
Venue & Catering: Edgewood Tahoe | Photographer: Blue Lotus Photography | Florist: Create with T | Bride's Dress: Gesinee's Bridal | Music: Jeff Jones | Rehearsal Dinner: Safari Rose